AI- Based Mobile App Development
AI App
Development Services: The Best Solution to Generate the High ROI
Nowadays, Artificial Intelligence (AI) is offering a huge number of opportunities for business development and takes its services to the next level. GvCloud Secure provides complete AI services to build smart, intelligent, self-sustainable iOS and Android apps for tablets, laptops, etc. The best AI is to fix the business ROI with the app development company in Noida. If you think of online business and you think of mobile applications. Then GvCloud Secure is a very good platform for you to get AI App Development Services. Being the best AI-Driven Mobile Application Development Company in India we are providing the AI application development services in USA, Canada, UK, UAE, among others. Artificial intelligence is playing a vital role to create intelligent and interactive products so that user engagement can be increased.
Benefits AI Mobile App Development Process Step-by-Step OF E-Commerce website design and development
Business Analysis >> Planning >> Strategy >> UI UX Design >> Machine Learning Process Sequence >> App Development >> App Testing >> Mobile App Deployment >> Support & Maintenance.
The complete process of AI mobile software development includes several steps. Each and every step is very important by skipping any one of them a powerful app can't be developed. Our professional AI developers use advanced AI tools to develop the AI-Driven mobile app such as AI-One, Tamr, Conversica, Deeplearning4J, Apache Mahout, etc., to build mobile apps.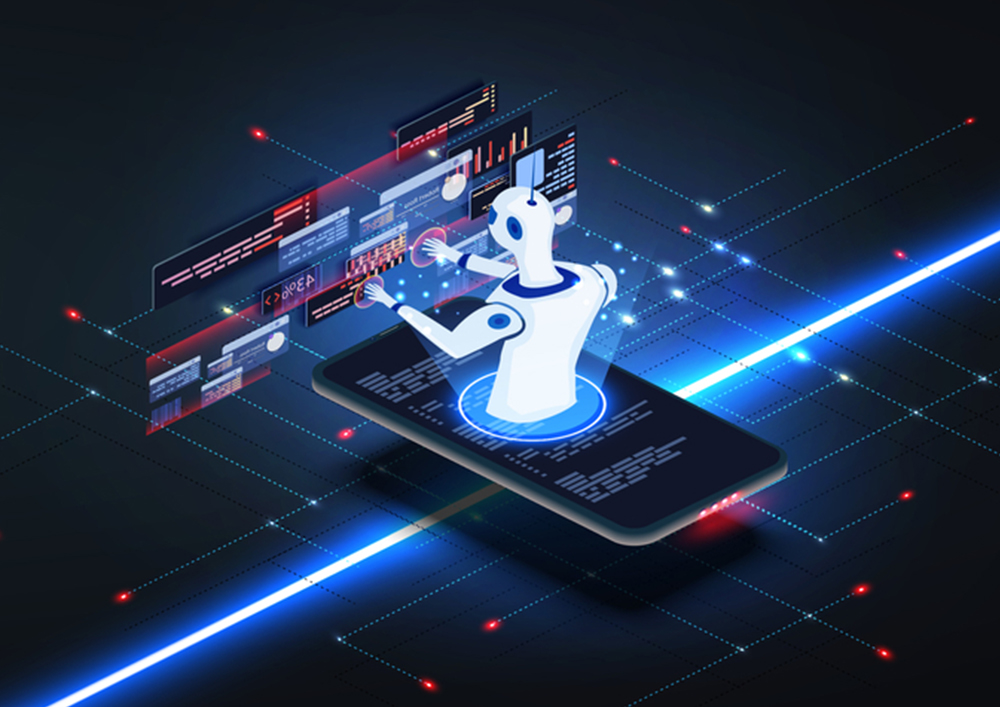 Top Company in AI Application Development Services: GvCloud Secure
Leading the best AI-based mobile app development company, we have developed 200+ best class AI mobile apps. Our developer has developed NLP compiled applications that provide the customer with an interactive experience. We started in 2017, and now GvCloud Secure has a large team of talented designers and developers working in Noida, India. We are versatile in AI app development to meet the online business needs of any customer. Our developers have created a variety of AI mobile apps for startups and enterprises to meet their many business needs which proved to be very effective. It is natural for brands to consider costs when seeking an AI mobile app vendor. Over the years, we have helped businesses to develop AI App on a large scale and have considered our products and services from concept to reality.
What are the business benefits of an AI app?
There are many business benefits such as automating marketing benefits, making business decisions easily, supply chain management and simplifying inventory etc
What is the development time of the AI app?
Well, the total time of AI app development depends on your business requirements, project complexity and more.
Which AI tools do you use for app development?
We use many AI tools to develop AIIMS including Tamer, Conversica, Gluru, Quill etc.
Do you also develop app back-end?
Yes, we develop a robust and scalable application back-end with custom APIs, allowing you to easily manage the app process and control data access.
Do you sign NDA and NC agreements?
Yes, when you appoint us, we are comfortable signing a legal contract.
What is the cost of AI App Development Services?
To know the cost of an AI app development service you have high time to say whether you have to call us or mail us.
Can we have coffee?
If you are in Noida, Delhi, NCR, we are open to meet you.
Do You Have An Interesting Projects?